Meet Your Board of Directors
Ryan Okey is the Assistant Director for the Clemson University Department of Pesticide Regulation in South Carolina.  Ryan began his career with the Department in 2003 as a Field Investigator.  In his current role as Assistant Director, Ryan oversees the Department's field and support operations, enforcement decisions and actions, as well as termiticide registrations in South Carolina.  Ryan graduated from Clemson University with a Bachelors in Turfgrass Science and a Masters in Agricultural Education.   Ryan has served on the Board of Directors since 2015.  He is the chair of the Termiticide Label Review Committee as well as a member of the Structural Fumigation, Building Codes, and Termiticide Standards Committee.
Kelly Friend, Vice President
Kelly Friend is the Director of Agricultural Environmental Services with the Florida Department of Agriculture and Consumer Services. Kelly began her career with the Department in 2001 with the Pesticide Certification Section and has served in many of the program areas administered by the division, to include Environmental Specialist positions within the Feed, Pesticide Compliance, and Fertilizer Sections, Bureau Chief of Licensing and Enforcement and Assistant Director of the division. As Director, Kelly is responsible for planning and directing the overall objectives of the division. She sets program priorities, evaluates outcomes, and assists in carrying out legislative mandates of Chapters 388, 482, 487, 576, 578 and 580, Florida Statutes. This includes Florida's Pesticide, Pest Control and Mosquito Control laws.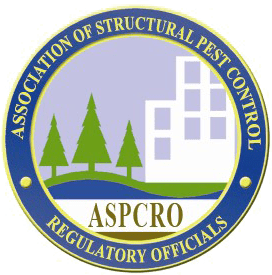 Allison Cuellar, Secretary
Allison Cuellar is the Coordinator for the Structural Pest Control Service at the Texas Department of Agriculture. Allison graduated from University of Texas at Austin with a Bachelors of Arts and a Masters in Public Affairs. Allison has been a licensed applicator for several years and has been a member of ASPCRO for over a decade. Allison is currently serving as the ASPCRO Board Secretary and is also the chair of the IPM in Schools Committee.
Grant Bishop has been with the West Virginia Department of Agriculture employee since 1992.  Currently he is the Deputy Director of the Regulatory and Environmental Affairs Division and manages the Pesticide Regulatory Programs Unit and The Environmental Programs Unit of the Division.  A proud graduate of West Virginia University with a Bachelor of Science in Agriculture, Grant has served as the Board of Directors Treasurer since 2003 and is the current Chair of the Building Code Committee.
Cindy Fulton, At Large Member
After receiving her B.S. degree from the University of Wyoming in Microbology in 1978, Cindy Fulton began her career with the Wyoming Department of Agriculture (WDA) in January 2006 as a pesticide inspector advancing to Lead Pesticide Officer in 2013, and ultimately Supervisor in 2019 overseeing all aspects of pesticide use, sale, and public policy in Wyoming.  She serves as representative for Wyoming on a regional and on the national level for pesticide related issues and represents the Department on the Wyoming Groundwater and Pesticide Strategy Committee.  She loves flyfishing and is an energetic grandmother to four grandchildren.
Cindy has been an active member of the ASPCRO board of directors since 2019. Her at large position has been extended to 2022.
John Pitcock, At Large Member
John Pitcock was born and raised on a small farm in Kentucky where his family raised tobacco and beef cattle. After his college years and a short stint in the military, including one deployment to Iraq, he took a job with Kentucky Department of Agriculture (KDA) as a Pesticide Inspector in 2012.  John advanced quickly to Executive Staff Advisor until being promoted to his current position in 2018 as the Product Registration and Technical Support Branch Manager for Environmental Services with KDA.  He now lives in Lexington, KY with his wife Anna, their two dogs Bear & Jack, and one cat Esmeralda.
John is the newest member of the Board of Directors beginning his appointment in August of 2019.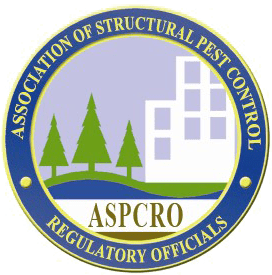 This space is for At Large Member bio.
Liza Fleeson Trossbach, Past President
Liza Fleeson Trossbach currently serves as the Program Manager for the Virginia Department of Agriculture and Consumer Services' Office of Pesticide Services.  In this position, she directs the statewide pesticide program and administers the Virginia Pesticide Control Act and related regulations.  Liza is the Immediate Past President of the Association of Structural Pest Control Regulatory Officials (ASPCRO) having served on the Board of Directors since 2008.  Throughout her career, Liza has worked in environmental and public health programs with the Departments of Health, Corrections and Agriculture.
Michael Page, Executive Secretary
Michael "Mike" Page was formerly with the Florida Department of Agriculture and Consumer Services (FDACS) retiring in 2015. While with FDACS, he served as the Chief of the Bureau of Entomology and Pest Control responsible for the regulation of the pest control industry and mosquito control statewide. Mike also served as an at large member and Secretary on the ASPCRO Board of Directors. He was responsible for promoting the safe use of mosquito misting systems, borate termite applications, was a force to be reconed with on training related issues (PIRT & PREP) and School IPM. Not satisfied with retired life, Mike currently serves as the ASPCRO Executive Secretary since February of 2019. And, he's really glad to be back!